loop - home - next
"Balancing the Cosmos" is a documentary film currently in production. During the course of this project, these pages at Mesoweb will evolve side by side with the making of the film. "Balancing the Cosmos" is a collaboration between filmmaker Andrew Weeks and art historian Dr. Allen Christenson of Brigham Young University. It is made possible by Allen's many years of familiarity with Santiago Atitlán and his close relations with key people in the traditional structure of the town.


---

NOTE:
Allen has a new and seminal book now available from the University of Texas Press, Art and Society in a Highland Maya Community: The Altarpiece of Santiago Atitlan. Fully illustrated, it places this unique altarpiece in the ceremonial context of the town, often in the words of the Atiteco sculptors themselves.
See Allen's article Weaving the Fabric of the Cosmos here at Mesoweb and also Andrew's interview with Allen.
next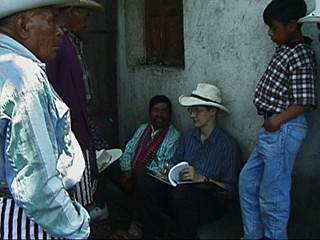 Allen keeps the Atitecos amused!