prev - home - next
Nicolás Chavez told me that the three altarpieces of his community's church represent the volcanoes that surround Santiago Atitlan as depicted in the altarpiece painting and related the following creation myth:
"Before the world was made, only Lake Atitlan existed at the center of everything. Everything was covered with water. Then the three volcanoes grew out of the lake and lifted up the sky to support it. Today, when our town is threatened with disaster or enemies try to attack us, these volcanoes come together and form a barrier that protects us from harm."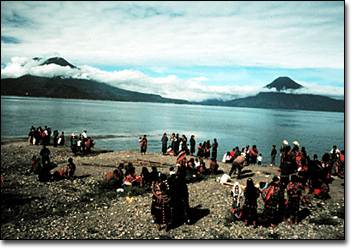 View of Lake Atitlan looking southwest toward Santiago Atitlan, located between the three volcanoes.