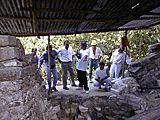 Initial excitement at the Temple XX discovery. Alfonso Morales (with video camera) discusses the find with Dr. Alejandro Martinez of Mexico's INAH.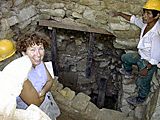 Maureen Carpenter of the Palenque Project. This is what an archaeologist looks like when a tomb has just been discovered in her temple.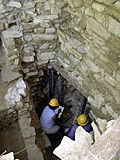 Archaeologist Maureen Carpenter, in charge of the Temple XX operation, draws the opening into the Temple XX tomb.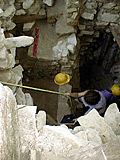 Maureen steadies herself with a rope.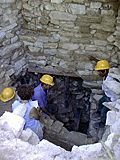 Field Supervision Christopher Powell (center) prepares to shine a flashlight through the small aperture into the tomb.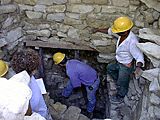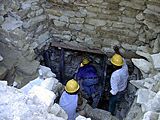 Christopher Powell pointing the flashlight into the tomb.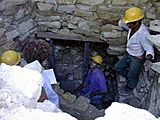 Chris relays his observations to Maureen.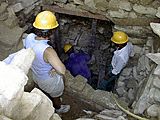 Chris setting up a humidity and temperature sensing device provided by Lee Langan.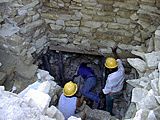 Chris assumes the position necessary to try to peak through the tiny aperture into the tomb.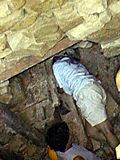 Project Director Merle Greene Robertson takes her first look into the tomb.