The community of Alvaro Obregon, Tabasco, Mexico, cordially welcomes all visitors to view their Precolumbian wooden box, hilltop cave and Maya ruins. The modern Tzeltal Maya village is a forty minute drive from the city of Tenosique.

As previously reported at Mesoweb, the community was first visited by Armando Anaya H. in June, 2001, in response to information about a carved wooden box. Dr. Anaya and several companions were shown the box and also guided to a cave high up on a limestone cliff where it was reportedly found along with human bones and ceramics.

This and subsequent visits to the site have revealed the remains of Precolumbian vaulted architecture on a small hill adjacent to the town. On top of a much larger hill nearby are copious evidences of terracing and masonry, including the substantial stone wall depicted in this photograph: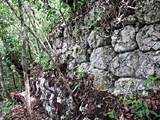 (click for zoom and caption)
While the Maya of the Classic period are known to have utilized natural defensive features of terrain and to have made use of perishable wooden palisades in hilltop positions, this is an impressive instance of a stone redoubt.
The carved wooden box is now on display in a small community museum. Municipal Representative Juan Mendez Cruz and the people of Alvaro Obregon take pride in their heritage and welcome all visitors who care to investigate it.
The telephone number for Alvaro Obregon is 555-150-32-72.
Map to Alvaro Obregon
Version of map for printing
(Adobe Acrobat Reader Format)
Free download:
Adobe Acrobat Reader